Community Foundation of Will County Annual Appeal
"Connecting People Who Care With Causes That Matter."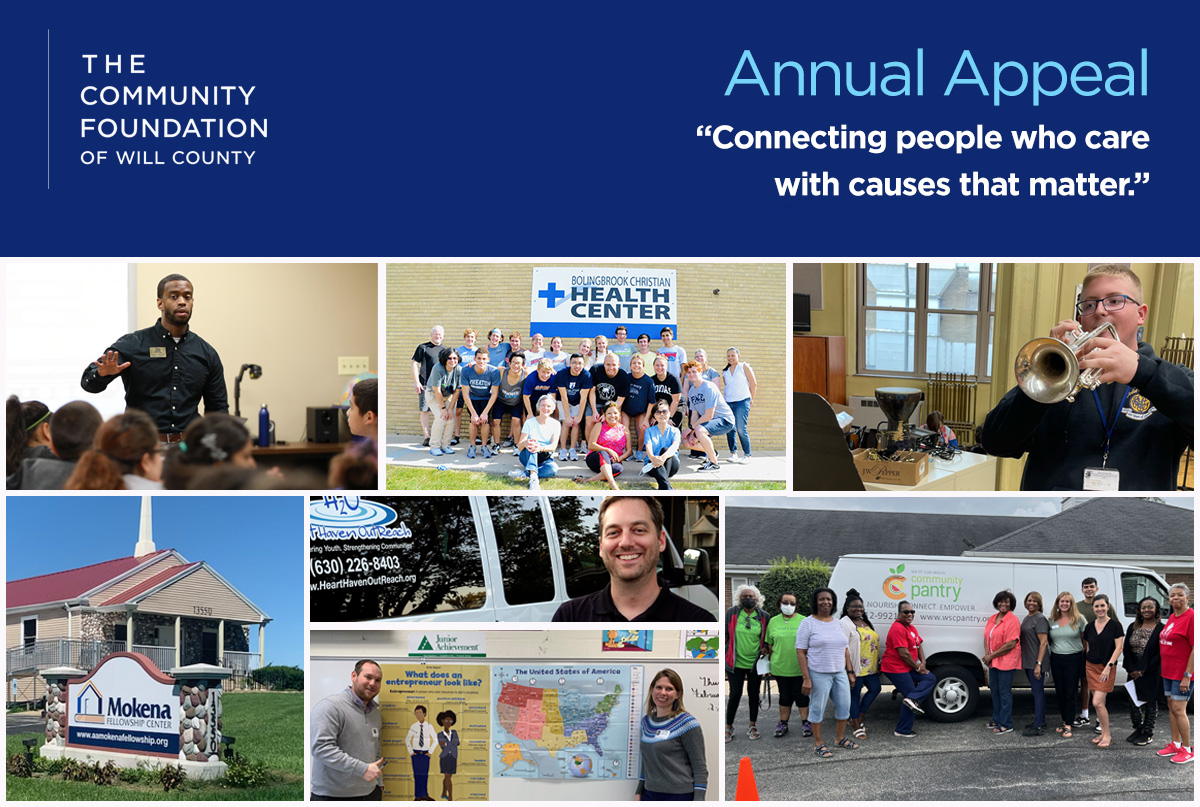 The past few years have brought about many changes in our lives, and we're aware that the world as we know it is a bit different than it used to be. But thankfully, there's something that has remained steadfast, the human spirit's commitment to helping others in need. As we reflect on the past year here at the Foundation, we're so appreciative of the generosity of people like you who believe in extending a helping hand to make your community a better place.
Since 2006, the Community Foundation has connected people who care to causes that matter. Since that time, more than $1.5 million has been donated to organizations throughout Will County. This year, 7 organizations received more than $87,000 in support through our annual Grant Cycle, and 3 organizations were the recipients of over $220,000 in Workforce Development Grants, made possible by a $500,000 donation to the Foundation from Amazon. This is an exciting time for the Foundation, and we're very glad that you're an important part of our future.
We know that during this busy season the demands on your time and finances are many and making the decision who to support is a thoughtful one. We would be grateful for your donation to one of our funds listed on the Annual Appeal Card, or to your own donor advised fund. For your convenience, donations can be made online, or by returning the Annual Appeal Card.
If you have any questions, please feel free to call us directly at 815.201.3700!
Thank you so very much, wishing you and your family peace and joy this holiday season.
Warm regards,
Lisa Corrao
Executive Director
Christian G. Spesia
Chair, Board of Directors
DONOR OPTIONS
WILL COUNTY COMMUNITY FOUNDATION FUNDS
These unrestricted funds allow the greatest flexibility for operations and response to where the greatest needs exist.
ADMINISTRATIVE FUND
Supports current operations and response to changing needs
OPERATING ENDOWMENT FUND
Supports current operations and response to changing needs.
GRANT MAKING ENDOWMENT FUND Supports current operations and response to changing needs.
FIELD-OF-INTEREST FUNDS
Building a source of funds to support targeted sectors of work in Health, Human Services, Education and Cultural Arts.
DONOR ADVISED FUNDS
View funds.
NEW FUNDS
$10,000 minimum required to establish a new fund.
To Establish a new fund to support a specific cause, purpose or organization, your own personal Donor Advised Fund, or a fund at a future time through a bequest please contact Lisa Corrao at 815-201-3700
Make a Difference and Donate Today
Donate by mail
Download an Annual Appeal Donor Card and mail to:
Will County Community Foundation
1000 Essington Rd.
Joliet, IL 60435
Congratulations to Our 2022 Grantees
Seven non-profits received more than $68,000 for new or expanding programs in education, health, food security and the arts.
Grants are intended to help the recipient organizations expand existing programming and build capacity to meet the needs of communities in Will County.