Community Foundation of Will County Annual Appeal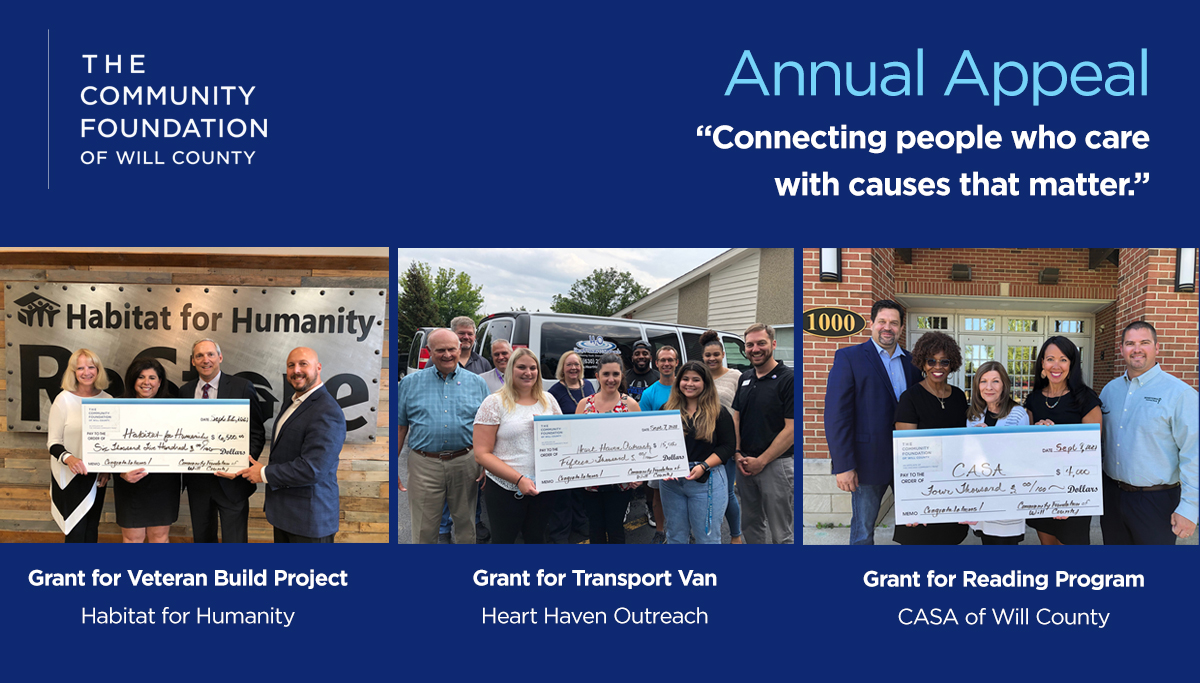 "Connecting people who care with causes that matter."
For nearly 15 years the Community Foundation of Will County in collaboration with our generous donors have contributed more than $1.75M to nonprofits in Will County. Our mission is to help organizations that serve our community to meet emerging needs, operate more efficiently and grow programs that provide critical services.
When we work together — and invest together — our impact is far greater. This year with generous contributions from donor advised funds we invested more than $250,000 in local organizations that support Health, Education, Human Services and Cultural Arts.
The Community Foundation has grown steadily since its founding in 2006. We are proud of how far we have come with ambitious goals to increase our impact even more. Your contribution to the CFWC or to your own donor advised fund will help organizations like CASA of Will County, Heart Haven Outreach and Habitat for Humanity do more for our community.
Wishing you a safe and healthy holiday season and a happy new year.
Best regards,
Christian G. Spesia, JD
CFWC Board Chair
DONOR OPTIONS
WILL COUNTY COMMUNITY FOUNDATION FUNDS
These unrestricted funds allow the greatest flexibility for operations and response to where the greatest needs exist.
ADMINISTRATIVE FUND
Supports current operations and response to changing needs.
OPERATING ENDOWMENT FUND
Supports future operations.
GRANT MAKING ENDOWMENT FUND Generates funds for annual Grants program.
FIELD-OF-INTEREST FUNDS
Building a source of funds to support targeted sectors of work in Health, Human Services, Education and Cultural Arts.
DONOR ADVISED FUNDS
View funds.
NEW FUNDS
$10,000 minimum required to establish a new fund.
To Establish a new fund to support a specific cause, purpose or organization, your own personal Donor Advised Fund, or a fund at a future time through a bequest please contact Lisa Johnson at 815-201-3700
Make a Difference and Donate Today
Donate by mail
Download an Annual Appeal Donor Card and mail to:
Will County Community Foundation
1000 Essington Rd.
Joliet, IL 60435