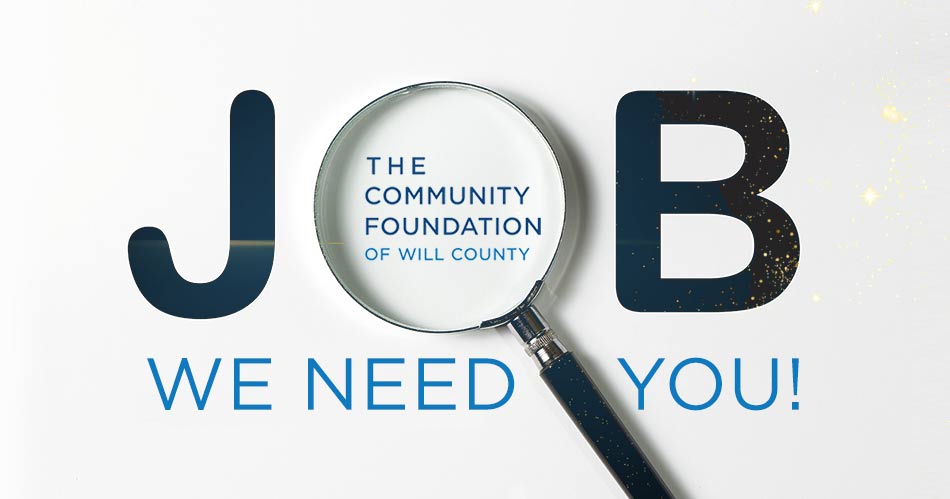 Community Foundation of Will County is Hiring!
OPEN POSITION
Development Coordinator
This is a contracted part-time position, 20-25 hours per week, and is perfect for someone seeking a flexible schedule – remote and on-site, approximately 3 days per week. If you have experience and are looking to advance your non-profit career in a relaxed and supportive environment, then please apply! We're looking for an enthusiastic and professional multi-tasker who has a background in the non-profit sector.
This position reports to the Executive Director.
Development Coordinator Duties and Responsibilities
Work closely with Executive Director on the following:
Perform data entry/track and acknowledge donations in database.
Produce reports on individual and institutional donors.
Address donor calls and questions.
Generate mailing/email lists.
Event support.
Administrative grant processing support as needed.
Meeting scheduling and minutes.
Qualifications
A professional and committed team player who has great time-management and organizational skills.
Associate or bachelor's degree in communications or public relations (preferred), or relevant work experience.
Experience working administratively in a non-profit environment is essential.
Computer proficiency, experience in and knowledge of database software such as Raiser's Edge or Donor Perfect is preferred. Experience working with social media, Publisher or other design software very helpful.
Strong interpersonal communication skills.
Job Type
Part-time, Contract
Pay
$25.00 – $30.00 per hour
Schedule
Ability to commute/relocate
Joliet, IL 60435: Reliably commute or planning to relocate before starting work (Required)
Experience
Development support: 2 years (Preferred)
Microsoft Office: 2 years (Preferred)
Work Location
Hybrid remote in Joliet, IL 60435