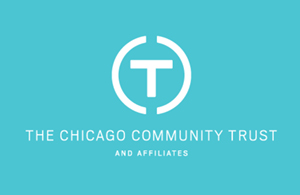 The Chicago Community Trust today announced the selection of Dr. Helene Gayle, CEO of the McKinsey Social Initiative, as its new CEO, succeeding Terry Mazany, who will step down at the end of September. Gayle will become just the seventh leader in the 102-year history of the community foundation.
"Helene brings an incredible depth of experience with more than 30 years working to address some of society's most pressing challenges," said Michael W. Ferro Jr., chairman of the Trust's Executive Committee. "I am convinced that with her proven leadership and vision, Helene will bring about innovative, inspiring solutions to the serious challenges confronting Chicago. I'm excited to see her get to work in elevating the Trust and building on Terry's leadership, which has shaped this organization into a dynamic force that creates real and lasting change."
Prior to her appointment to lead the Trust, Dr. Gayle served as CEO of the McKinsey Social Initiative, an independent nonprofit organization founded by McKinsey & Company to develop innovative approaches to global social challenges.
Previously, Dr. Gayle served as president and CEO of CARE USA, one of the leading international humanitarian and development organizations. An expert on global development, humanitarian, and public health issues, she spent 20 years with the Centers for Disease Control. Dr. Gayle then worked at the Bill & Melinda Gates Foundation, directing programs on HIV/AIDS and other global health issues.
Dr. Gayle serves on public company and nonprofit boards including: The Coca-Cola Company; Colgate-Palmolive Company; the Rockefeller Foundation; the Brookings Institution; the Center for Strategic and International Studies; New America and the ONE Campaign. She is a member of the Council on Foreign Relations; the National Academy of Medicine; the American Public Health Association; the American Academy of Pediatrics; and the National Medical Association.
Named one of Forbes' "100 Most Powerful Women," she has authored numerous articles on global and domestic public health issues, poverty alleviation, gender equality and social justice.
Dr. Gayle was born and raised in Buffalo, NY. She earned a B.A. in psychology at Barnard College, an M.D. from the University of Pennsylvania, and an M.P.H. from Johns Hopkins University. She has received 13 honorary degrees and holds faculty appointments at the University of Washington and Emory University.
Dr. Gayle thanked The Trust's Executive Committee and promised to devote her energy to serving its mission.
"It's a tremendous honor to be selected to head the prestigious Chicago Community Trust and to work with the board and talented staff to further its critical mission of leading and inspiring philanthropic efforts and civic involvement to improve the quality of life for the people of the Chicago region," said Dr. Gayle.
Terry Mazany led the Trust to financial strength which supported deeper community involvement," continued Dr. Gayle. "This region is at a critical time, amid concerning levels of violence, economic disparity and great uncertainty about the future. Yet, with its highly committed civic community, a legion of philanthropic innovators and communities of passionate residents who seek to create a better life for their families and neighbors, I am certain that we have the tools necessary to confront these challenges and seize the opportunities facing the region, its institutions and the people we serve to make our neighborhoods stronger, safer and more vibrant than ever before."
The Trust's Executive Committee conducted the search. Linda Wolf, former Leo Burnett Worldwide chairman and CEO led the effort in partnership with executive search firm Spencer Stuart.
"In Helene, the Executive Committee has found an exemplary leader who has dedicated her career to solving complex problems in service to building better communities," said Wolf. "She brings a unique perspective from working at the intersection of philanthropy, government and business that will well serve the Trust as it looks to enhance its impact on key issues facing the Chicago community."