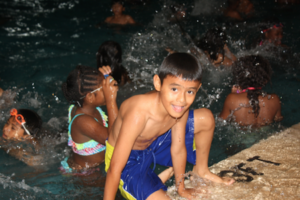 JOLIET, IL (July 19, 2012)– When temperatures sore over 100 degrees, the pool at the George Werden Buck Boys & Girls Club is a critical community resource where children come to cool off.
So when the pool pump broke last July and the water flooded the building, hundreds of children were displaced when the Boys & Girls Club had to be closed for three days. "We had to get the building restored and the pool back up and running immediately," said Associate Director, Michelle Cottrell.
"The 75' x 22' pool was built back in 1968" said Program Director, Frank Bati. "It was the biggest pool in the area at that time. We have had minimal problems over the past 43 years."
"We were able to provide stop-gap fixes to the pool to get it back up to finish out last summer" said Michelle, "but we would have to look into long term repairs. This pool is where the kids spend their time in the summer. We can't be without it." Michelle applied for and received a grant from The Will County Community Foundation to repair the pool.
"One of the things that we look for when awarding grants is a commitment from the organization's board of directors to match funds" noted Will County Community Foundation Executive Director, Michael Trench. Boys & Girls Club board member Mark Inserra made a donation in memory of his father and challenged his fellow board members to a matching donation. They rose to the occasion and together the funds were available to replace the motor, pipes, and boiler in addition to repairing cracks and repainting the pool.
"We have between 350-400 kids here a day in the summer. The pool is our major source of entertainment. The kids come here to be safe and have fun. This pool has provided a safe place for thousands of kids to play during the summers" said Michelle. "We hope these repairs will keep us up and running for another 40+ years."