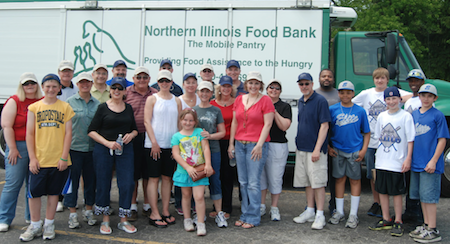 WILL COUNTY, IL (MAY 23, 2012) – On a recent Saturday in University Park, IL, the Northern Illinois Food Bank's mobile food pantry arrived with over 7,000 lbs. of food, prepared to help over 200 Will County families put food on their tables. The hot weather didn't deter families from arriving as early as 6:00 a.m. for the 10 a.m. Pantry opening.
The Will County Community Foundation provided a grant to The Northern Illinois Food Bank to help provide mobile food pantries in outlying areas of Will County, such as the one at Pilgrimage Protestant Church in University Park.
"Local residents come to the church on a regular basis for food." said Rebecca Harris, chairman of the food pantry at Pilgrimage Protestant Church. "But not the numbers that are here today. They are here because of the mobile pantry."
Food on a truck doesn't help hungry people, so members of the Will County Community Foundation Board and staff were ready with family and friends to help move that food from the truck into the boxes and baskets of those in need. Board Chairman Dennis Tonelli shared why they were there, because in addition to the grant, The Will County Community Foundation agreed to staff one Mobile Pantry visit. "Our board members their families and friends are here to help distribute food items and load them into the vehicles," he said. "We distributed 7,800 pounds of meat, frozen dinners, salad, dressing, apples, cereals, bread and granola bars, benefiting over 700 individuals." said Hester Bury, Senior Development Officer for The Northern Illinois Food Bank.
"The latest hunger statistics indicate that over 80,000 of our neighbors in Will County alone will go hungry some time this year." Said Pete Schaffer, President of The Northern Illinois Food Bank, who also attended to help the Foundation. "40,000 of those neighbors will be children. We can solve hunger. It is about igniting the community and getting them around this issue. Every kid that needs food should have food in Will County. We can do that." Foundation Executive Director, Michael Trench, told Mr. Schaffer that "it is our pleasure as a Foundation to do what we can to help you achieve that goal here in Will County." For more information regarding The Will County Community Foundation visit www.willcountycf.org or reach Michael Trench, the Executive Director at (815) 744-9223.