Amazon Grants $500,000 To Community Foundation Of Will County
Grant to Fund Local Workforce Development, Education
Joliet, Illinois — The Community Foundation of Will County (CFWC) announced on Thursday, February 25, 2021 that Amazon has donated $500,000 to invest in workforce development and education in Will County. This generous investment allows the CFWC to establish an advisory committee comprising leaders in education, economic development and workforce development. They will bring resources and best practices from their respective organizations to establish criteria and seek opportunities for investment.
"We are grateful and excited about the grant from Amazon," says Rod Tonelli, president of the CFWC. "Will County has experienced the most rapid growth in the region during the past decade and this investment will propel a cooperative effort to ensure that we continue to be a location of choice for companies like Amazon. This is exactly the type of initiative that the Community Foundation is intended for — connecting people who care with causes that matter."
Since 2010, Amazon has invested $8 billion in the state of Illinois including infrastructure and employee compensation. The company has created 36,000 full- and part-time jobs in the state and continues hiring.
"The Community Foundation of Will County has a solid track record of expanding opportunity and increasing the capacity of existing non-profit organizations in Will County," said Sarah Glavin, Amazon's Chicago Senior Manager of External Affairs. "Amazon is committed to being a positive force in the Chicago region and this grant will allow us to invest in workforce development initiatives in Will County that will benefit all of its residents.
Will County Executive Jennifer Bertino-Tarrant expressed her gratitude for the grant and enthusiasm about the initiative. "Will County has proven itself to be a location of choice for world-class organizations like Amazon. This generous investment in workforce development and the expertise of the Advisory Committee can help keep us in the lead by ensuring we have a workforce that can meet current and future opportunities."
The Advisory Committee that will oversee the Amazon Workforce Development investment is led by Dr. David Livingston, president of Lewis University and a Board member of the CFWC. View the Advisory Committee.
The Advisory Committee will begin its work in March and leverage the experts in their respective organizations to accelerate the work of establishing grant criteria and seeking out projects and programs for investment.
About the Community Foundation of Will County
The Community Foundation of Will County seeks to improve the quality of life throughout Will County by promoting philanthropy, connecting donors to community needs and building partnerships. The CFWC was founded as an affiliate of the Chicago Community Trust by local community leaders in 2006 to serve as a local resource for donors and professional advisors in the implementation of charitable strategies through donor advised funds and other planning vehicles, to build endowments in areas of special interest and to hold various nonprofit agency/organization endowment funds.
About Amazon
Amazon is guided by four principles: customer obsession rather than competitor focus, passion for invention, commitment to operational excellence, and long-term thinking. Customer reviews, 1-Click shopping, personalized recommendations, Prime, Fulfillment by Amazon, AWS, Kindle Direct Publishing, Kindle, Fire tablets, Fire TV, Amazon Echo, and Alexa are some of the products and services pioneered by Amazon. For more information, visit amazon.com/about and follow @AmazonNews.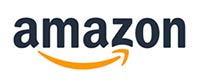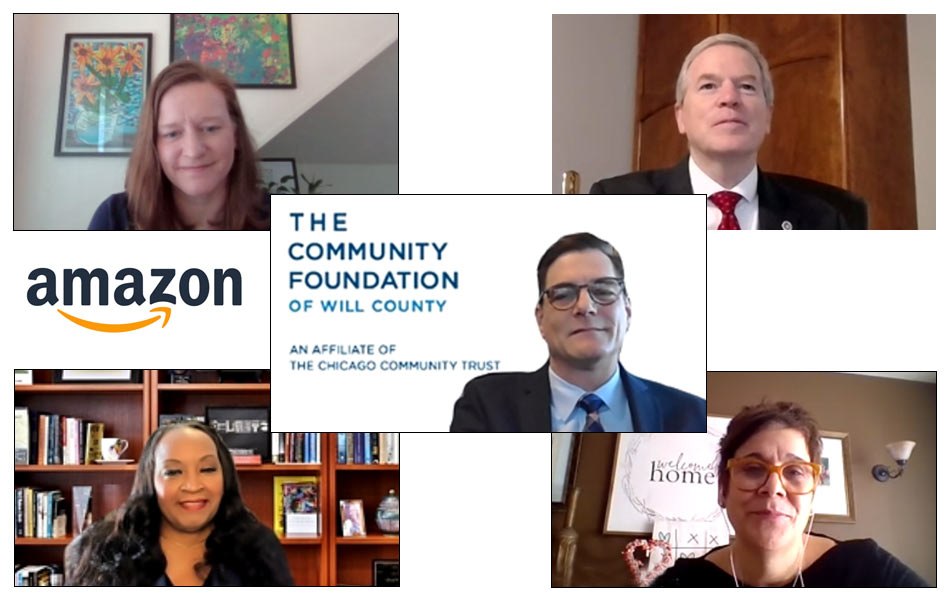 Pictured from top left — Sarah Glavin, Amazon Senior Manager of External Affairs; Dr. David Livingston, President, Lewis University and Advisory Committee Chair; Rod Tonelli, Board President, Community Foundation of Will County; Dr. Cheryl Green, President, Governors State University, and Jennifer Bertino-Tarrant, Will County Executive at the official grant announcement on Thursday, February 25, 2021.
The Workforce Development Advisory Committee
The goal of the Workforce Development Advisory Committee is to use the generous Amazon investment as impetus, establish a long-term collaboration focused on identifying and investing in workforce development programs that benefit Will County.