Joliet Region Education Scholarship Fund
"The Joliet Region Education Scholarship Fund was created at the Community Foundation of Will County in 2014 to provide support and encouragement to students in grades K-8 about their education beyond high school. We want them to know we believe in their potential and we're investing in their future with these $1,000 scholarships."
Jen Howard
President, Joliet Region Chamber of Commerce & Industry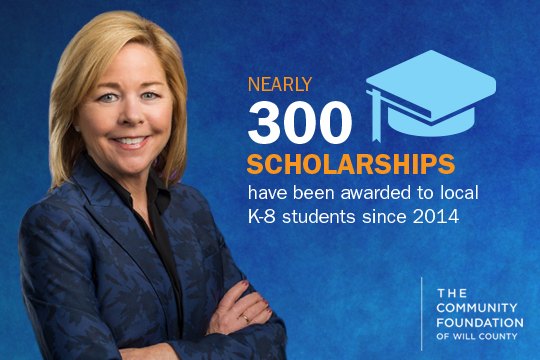 About the Scholarship Fund
Established in 2014 by the Joliet Region Chamber of Commerce & Industry the Joliet Region Education Scholarship Fund is meant to encourage students to strive for education beyond high school, including colleges, universities and accredited trade schools.
Every year one student from each public school and Catholic elementary and middle schools in Joliet, Laraway, Elwood, Rockdale, Channahon and Troy school districts are awarded a $1,000 scholarship — 46 in all.
The students are nominated by their teachers and invited to write an essay; essays are evaluated by a panel of educators and community members. An awards banquet is held each year to honor the recipients and acknowledge their accomplishment.
To date nearly 300 scholarships have been awarded and are paid directly to the college, university or trade school of the students' choice upon matriculation.
Make a contribution to the Joliet Region Education Scholarship Fund